- Memory module: 144-pin SO-DIMM 133 MHz, 256MB (up to 512 MB may be available).
- FPGA: Xilinx XC2V6000-FF1152 (XC2V8000-FF1152 also available).
- Up to 8 of M-2 modules can be mounted on B-1.
- Total 556 user I/Os.
- FPGA function DCI (digitally controlled impedance) may be available.
- Design Gateway configuration supports: FlashLink.
- Sample FPGA circuit core-IP (memory controller and PCI) and PC base software (Windows driver and application software) source code may be applied.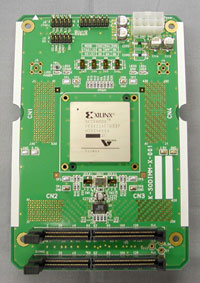 · The signals connected to CN1 - CN4 can all be user by the user.
· Clock input can be freely selected from among input from the base system (33MHz), OSC on the module (50MHz), SMA input, input from another module (CN1 - CN4), etc.
· Clock can be provided non-skewed to the SDRAM, FPGA by the clock driver on the functional module.
· Input and output to the base system (PCI, LED, SW, etc.) can all be used.
· LEDs are provided for debugging.